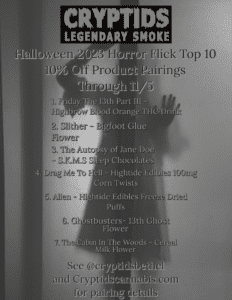 It's spooky season, so you know what time it is, it's time for Cryptids Halloween Horror Flick Top 7. Each film is paired with the perfect product to anhance your experience. Each pairing will be 10% off through Halloween. Kick back and enjoy the Halloween season with us!
1: Friday the 13th part III
Directed by Steve Minor
Those damn kids just won't stop partying at Camp Crystal Lake, and Jason is back for revenge in this iconic 3rd installment of the bloody franchise. Friday The 13th part 3 pairs perfectly with the Blood Orange THC drink from highbrow, it's the perfect refreshment after a long day of running from Jason Voorhees. This is the film that changed the game for Friday the 13th, Jason found his hockey mask, cementing the stalking villain in horror movie lore forever. It begs the question, would Jason be the iconic movie monster he is today if he never dawned that goalie mask?
2: Slither (2006) – Bigfoot Glue Flower
Written and Directed by James Gunn
Before James Gunn was Guarding the Galaxy and running the DCU, he was dropping this comedy horror gem. Slither is a love letter to campy creature features, with James Gunn's comedic edge. If you like monster movies with snappy one liners and a high body count, this is the film for you. Pair Slither with Cryptids in-house strain Bigfoot Glue to get in the right head space for a monster filled good time. A cross of GG #4 and Humboldt Headband, this piney sativa leaning hybrid is known for its high potency and relaxing effects. A Bigfoot Glue preroll is the perfect paring with the mutant monster hi-jinx of James Gunn's Slither. So grab some Bigfoot Glue, light up, sit back and enjoy the show. Now streaming on Peacock.
3: The Autopsy of Jane Doe (2016) – S.K.M.S. Sleep Chocolates
Directed by Andre Overdal
The Autopsy of Jane Doe is truly a scary movie, many films get that label, but few live up to it, this film does in spades. We're talking The Exorcist level scary, and I don't say that lightly. Watch this one late at night with the lights off I dare ya. Brian Cox and Emile Hirsch star in this tale of terror, they bring a gravitas that truly elevates the material. Pair with Strainkeeper's sleep chocolates because you're gonna need it. This product is carefully crafted to target sleep deprivation, Insomnia, a busy mind, as well as PTSD, and it does the job as effectively as The Autopsy of Jane Doe scares the crap out of you. Strainkeeper makes a quality product line that specifically targets an array of symptoms, and after watching the Autopsy of Jane Doe, you may be experiencing strong symptoms of sleep deprivation boarding on insomnia. Pop on the Autopsy of Jane Doe and prepare yourself to be terrified, then mellow out with Strainkeeper sleep chocolate.
4: Drag Me To Hell (2009) – Hightides Edibles 100mg BBQ Corn Twists
Directed by Sam Rami
Drag me to Hell is Sam Rami's triumphant return to horror, the genre that launched his career. He would go on to direct major blockbusters like Spider-Man, and For The Love of The Game, but his fans have always clamored for Rami to come back to horror, In 2009 he delivered big time. Staring Alison Lohman and Justin Long, DMTH is packed with amazing effects, and horrifying moments all through the lens of Rami'd unique visual style and tone. Lohman did all her own stunts, no small feet, she gets put through the wringer to be sure. Above all else we learn an important lesson, don't disrespect an old Gypsy woman, words to live by. Pair with Hightides Edibles 100mg BBQ Corn Twists. You don't need to go to hell to enjoy a sinfully delicious BBQ snack. Streaming on Amazon Prime.
5: Alien (1979) – Hightide Edibles freeze dried puffs
Directed by Ridley Scott
Alien is simultaneously one of the best sci-fi and horror films ever made. Alien is a master class in suspense. Ridley Scott channels his inner Hitchcock in this one. Much like the shark in Jaws, less is more. We don't even see the Alien until about and hour into the film. The choice to build the world, the story and the characters up before the Alien is revealed, was a stroke of genius, and a big reason why the film holds up so well today. Sigourney Weaver, as Ripley, kicks some serious ass, and sets a new standard for a female lead in a horror flick. Alien also boasts arguably the best tag line of all time "In space no one can hear you scream". When you watch Alien, no one will hear you scream, because you'll be stuffing your face with our pairing, Hightide Edibles freeze dried puffs. With a 25 year shelf life these puffs are the prefect companion for deep space travel to unknown worlds. Besides, it's never to good to run from a xenomorph on an empty stomach.
6: Ghostbusters – 13th Ghost flower
Directed by Ivan Reitman
Who you gonna call? You know who… Dan Aykroyd grew up in an interesting household, his grandfather and father were authorities on the paranormal and the occult. His dad Peter Aykroyd literally wrote the book on ghosts, The History Of Ghosts, covering every thing from haunting to seances. Dan Aykroyd started his career in comedy at 17, but It's fair to say he was heavily influenced by his spooky surroundings. So what did he do? Aykroyd merged his interests into a screenplay that would soon become the most iconic comedy/horror movie ever made, The Ghostbusters.  This classic is filled with memorable scenes, characters and of course, one liners. As long as there's electricity, people will be enjoying and loving The Ghostbusters. Pair with our in house strain, 13th Ghost. 13th Ghost is a fan favorite at Cryptids is a cross of Louis XIII OG x Ghost OG x Creme Brûlée. Truly a classic indica experience with and earthy smell and an amazing taste. 13th Ghost will get you in the perfect state of mind for the classic Ghostbusters, so light up, kick back, and enjoy the show.
7: The Cabin in the Woods (2011) – Cereal Milk Flower
Directed by Drew Goddard
I can't recommend this film highly enough, if you haven't seen it, get in there, if you have, you know you want a rewatch. Brought to you by the minds behind Buffy the Vampire Slayer, Josh Whedon and Drew Goddard. The cabin in the woods is a witty gore fest. Much like Scream, The Cabin in the Woods is both a love letter to horror as well as commentary on it. Pair with our in house strain Cereal Milk. This earthy hybrid is a cross of Y Life cookies x Cherry pie and Snowman. Effects lean more to the sativa side of the street, giggly, relaxed, and focus. The perfect pairing for the dare I say brilliant film, The Cabin in the woods. Kick back, light up, and enjoy the show.